Let's not start with the clichés here. I already stopped smoking, changed my food habits and started doing sports last year, so this year, my resolutions are going to be of purely technological and work-related nature.
As i find "personal" resolutions a bit an old-fashioned and most of the time also very hypocritical – as i always strive to learn something while "on the job" – here's some resolutions that in my role as a web developer I will take very seriously in 2014.
1. Become more Productive
I found a lot of reads about productivity lately. There's lots of talk about the mythical "Inbox Zero" and lots and lots of tools that are supposed to increase productivity. While i finally found task management goodness in Flow and learned to do Inbox Hygiene, it's time to aim for Productivity as a  "State of Mind" more than just a way to schedule and check off tasks from the To-Do List.
I found Nathan Barry's "Productivity Manifesto" to make some good and interesting points about exactly that. I know there's lots of talk going on about productivity and learning to "set priorities" and discerning the important from the irrelevant but in the end it's not until you implement some sort of routine, supposedly supported by some kinds of tools (be it a simple pen and paper approach or something more sophisticated) that really work for you.
On the other hand, as much as I'll be trying to squeeze the last drop of efficiency out of myself when I'm at work – I will also try to better and more enjoy the "downtime" – the time when i'm not actually being productive or better put, not "at work". Doing this will probably be the greatest challenge of this year.
2. Properly learn javascript and aim for the full stack
Of course, "There's a jQuery Plugin for that", but it's time i get my JavaScript real straight. Because there's a lot more to JavaScript than Front-End Animation & Interaction, Ajax Calls and User Interface Programming.
There's so many javascript Web App Frameworks out there that I'd love to get to know better and eventually use to create something awesome. Angular.js and Ember.js are just two out of dozens that created a lot of hype lately and I can see why. They allow you to build complex web applications while staying client side – which facilitates the approach of a web browser actually becoming the new sort of operating system – a development I am greatly welcoming.
I'd love to go towards a more "full stack" approach and eventually replace my PHP Backends with something JavaScript based as it would be nice to use just one language for all application layers. The experience gap is huge at the moment, but it's still something I'm trying to steer towards.
That would mean getting to know node.js and therefore knowing how Prototypes, Closures, Binding and all that stuff really works.
Codecademy has already led me in the right direction and allows for learning new skills in a playful way. Also, I recently purchased a copy of Smashing Magazine's Library, a complete collection of e-Books that offer high quality insights and articles about all different kinds of web development and design topics.
3. Implement a high end web development workflow
I'm still getting to know Yeoman and just in the progress of writing a new generator for it. I still think it's kid of magic what this tool (combined with Grunt and Bower) does, but I'm slowly starting to understand what happens behind the scenes.
As 2014 progresses, i really want the three handsome tools above improving my web development workflow, meaning that i wanna implement these in every project I'm going to start from now on.
Yeoman will help me to scaffold commonly used Web Application Templates by automatically setting up Boilerplate Framework Code for me and allowing me to extend them with custom elements such as individual CMS modules.
Grunt will take over all my automated tasks such as compiling and minifying CSS and JavaScript as well as improving and compressing web imagery and help me develop and debug Web Front-Ends.
Bower will do all the dependency management for all my JavaScript libraries – this way, i no longer have to keep 5 different versions of jQuery and Twitter Bootstrap and even better, i can keep all the clutter out of my Git Repositories version control.
4. Code something awesome in a new language
For years i have peered on programming lanugages unknown to me. I especially heard awesome things about Python and Ruby, but i never really got to take a closer look except fiddling around with some basic exercises that mostly teached me how their syntax works at the base.
The easiest way to get a little bit more hands on is probably to dive right into and code something awesome, something new with the language of choice. I have a few ideas, which i'll try to bring to live.
There's the Football World Cup coming up which calls for a new and fresh fun betting game among family and friends.
Also, i've been having some different game ideas and i'm sick of doing games with PHP/MySQL.
I also have found loads of resources that could teach the two languages. Some look like they're even huge fun:
Ruby Warrior being the most promising approach will teach me more about ruby while having me play a roguelike game – now even available as a graphical version!
5. Give something back to the community
Last but not least i finally wanna give something back to the web developer community. I'm not talking about money. I'm talking about giving the gift of source code.
I've always loved the idea of open source code and since everyone is using GitHub, there's just so much codebases out there, free to be used and extended.
As i have greatly benefited from the most different kinds of bits of code which was made available freely by other developers, I'm planning to release some of the codebase i developed for the Zend Framework in order to help other developers benefit from the experience i gained using the framework over the last few years.
Ready to rock 2014!
There's a lot more i wanna do in 2014 – I'm gonna be a father soon and other than trying to be the best dad i can, which is probably gonna eat up all of my so called "free time" anyway, I'll try and focus again more on my pastime creative work: Music. That means improving my rusty guitar skills. I just bought Rocksmith 2014 – another "gamified" learning tool (you can see I'm really into gamified learning).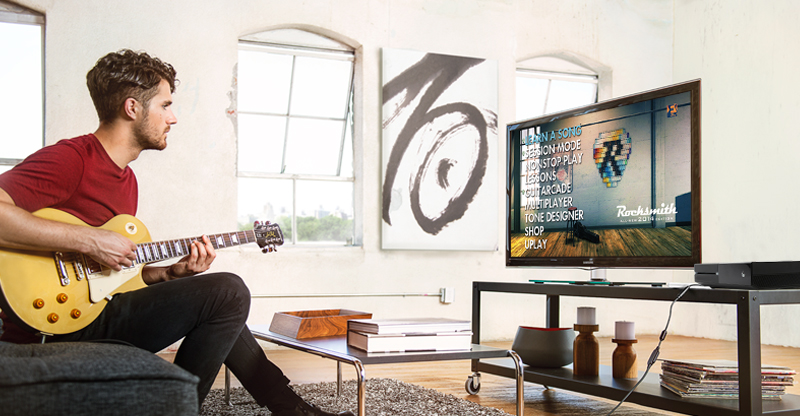 I'm also planning to go back to the studio with my two bands Electronical Suicide and Storm – looking at those, i just realized both REALLY need a new website. That would make for potentially good ideas for #4 above, would it?
What are your developer's resolutions for 2014? Any technologies or tools you really wanna dive into this year? Let me know if I missed out on something here.